This two-day programme consists of a first day of lectures followed by a second day focused on practising sizing.
Attendance is limited to small groups of physicians in order to provide each participant the opportunity to meaningfully and actively engage with the faculty and practise on a sizing station.
Participants in this programme will have the opportunity to:
Get a clear overview of the key features to size the aortic valve
Discuss and debate patient selection, contraindication, and pre- and post-case procedures
Gain a thorough understanding of pre-operative imaging and TAVI prosthesis sizing
Share best practices for TAVI sizing and imaging
Practise on sizing station and discuss TAVI case studies with experts in sizing faculty
AUDIENCE
Physicians and members of the TAVI team, highly motivated to acquire additional knowledge and skills in pre-procedure imaging and sizing who want to be autonomic in sizing.
OBJECTIVE
By the end of the programme, participants will be able to:
Correctly size the valve using the latest imaging technique
Leverage latest imaging techniques in order to identify optimal vascular access via precise anatomical and pathological patient analysis
Reach proficiency in performing effective and efficient implant procedure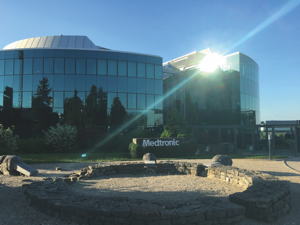 LOCATION
MEDTRONIC HEADQUARTERS,
TOLOCHENAZ, SWITZERLAND
40-minute drive from Geneva Airport.
FORMAT
Arrival on Day 1 in time for lunch at 12.00;
with flight landing the latest at 10.00 at Geneva Airport.
Departure on Day 2; flight departing earliest at 18.00 from Geneva Airport.
Dates
Please refer to the COURSE OFFERING iPDF for all dates.
PRELIMINARY AGENDA
DAY 1
Hands-on tutorial, Part I

DAY 2
Anatomy
How to visualise and quantify the aortic root
Clinical reality
Step-by-step sizing
Anatomical considerations
Hands-on tutorial, Part II
Group dinner