This programme consists of lectures and discussions, with a particular focus on hands-on experience.
Attendance is limited to small groups of physicians in order to provide each participant the opportunity to meaningfully and actively engage with the faculty.
Participants in this programme will have the opportunity to:
Review the basics of coronary interventions
Understand TAVI implantation procedures
Discuss interpretation skills of different radiologic views and imaging modalities
Practise transcatheter skills via simulator-based training and hands-on sessions on interventional equipment
AUDIENCE
This course is suited to surgeons with limited or no previous cath lab experience, who require basic catheter and wire skills training in order to perform transfemoral TAVI procedures in their institution with the necessary interventional skills.
Participants must have access to a cath lab and/or a hybrid OR in their institution to complete their training and develop wire skills.
OBJECTIVE
By the end of the programme, participants will be able to:
Effectively select the right interventional material for a TAVI procedure from a range of available tools
Perform predefined procedural steps in a simulated environment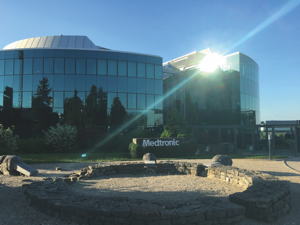 LOCATION
MEDTRONIC HEADQUARTERS,
TOLOCHENAZ, SWITZERLAND
40-minute drive from Geneva Airport.
FORMAT
Arrival Day 1; flight landing no later than 18.00 in time for dinner on Day 1.
Meeting on Day 2 at Medtronic headquarters.
Departure Day 2; flight departing earliest at 17.30 from Geneva Airport.
Dates
Please refer to the COURSE OFFERING iPDF for all dates.
PRELIMINARY AGENDA
DAY 1
DAY 2
Welcome and round table
History of angiography, PCI and description of the
vascular access
Choice of material: Catheters and guide wires
Haemodynamics: Illustration with a TAVI case
Hands-on: Interventional equipment
Imaging: Different projections radio protection
Evolut™ TAVI Platform product overview
Hands-on: TAVI simulation
Round table and discussion