OBJECTIVE OF THE PROGRAMME
Medtronic training sessions are recognised in Europe for their quality and high scientific level with highly experienced and recognised experts.
This programme offers you an opportunity to further develop your surgical skills in both minimally invasive and complex Hernia procedures.
This training programme will support you to enhance procedural adoption rates, acquire competence and confidence, as well as achieve improved patient outcomes through a systematic approach that includes live surgical cases, patient case discussions, cadaver workshop, mentorship and patient environment best practices. The whole programme complies with European Hernia Society guidelines.
All of Medtronic Hernia Courses either take place online, in medical training institutions, or Expert Faculty Hospitals. They provide multiple opportunities to learn from experts on the best practice and create a professional network in the treatment and prevention of abdominal wall hernias.
THE HERNIA SURGERY TRAINING PATHWAY
ADDRESSING CLINICAL AND ECONOMIC NEEDS THAT DRIVE PATIENT OUTCOMES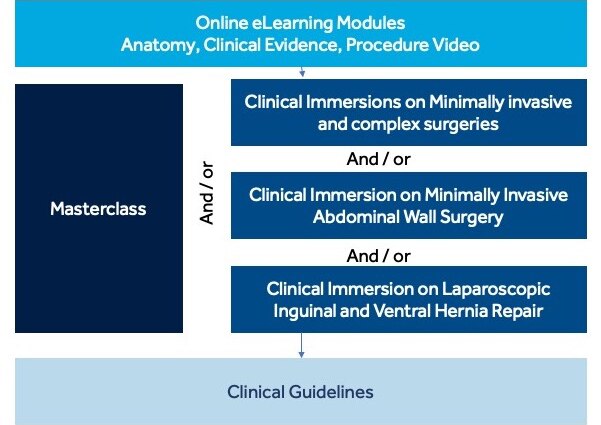 The programme features a selection of procedures that matches with the EHS guidelines.
Certifications are presented upon successful completion of each level; each level of the curriculum is validated by both online assessment during the practical course according to published recommendations.