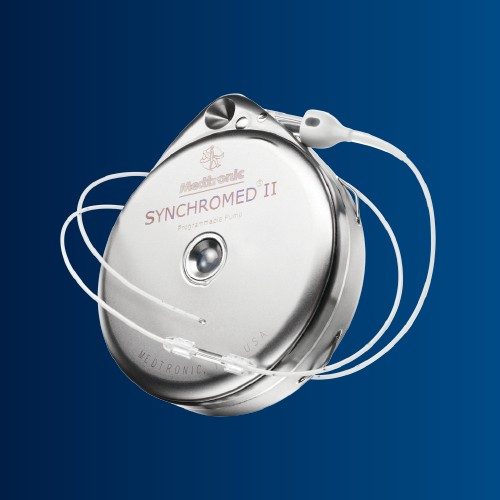 INTRATHECAL
DRUG DELIVERY
THERAPY (ITDD)
COVID-19 ITDD FAQs

SynchroMed™ II
Infusion System
Read More
WOULD YOU LIKE TO

LEARN MORE ABOUT THE THERAPY?
DOWNLOAD THE NEW BROCHURE FOR ALL
INTRATHECAL DRUG DELIVERY (ITDD) INDICATIONs.
Reduce Spasticity After Brain Injury
Reduce Refractory Cancer Pain
Reduce Spasticity In Cerebral Palsy (CP)
Reduce Spasticity For Patients With Multiple Sclerosis (MS)
Reduce Spasticity After Spinal Cord Injury
Reduce Post-Stroke Spasticity
find your closest itb therapy clinic

DURABLE DESIGN ENHANCEMENTS
1. Medtronic's strength is in its scale and extensive real life data. We have implanted over 280,000 SMII pumps globally, have a registry of almost 8,444 patients1 constantly monitored with detailed information (Pumps and SCS), and we analyse every returned product.
This scale and extensive real life data is the reason we identified 4 product enhancements that aim to improve reliability (survival rate at 7yrs) from 95% to 98%.
2. Which is why Medtronic is constantly striving for better with durable design enhancements, improving reliability by addressing the 3 main causes of motor stalls:
Addressing causes OF MOTOR STALLS2
2%
CORROSION OF
THE DRIVE GEAR
DURABLE DESIGN
ENHANCEMENTS4

APPLIED
DIAMOND-LIKE
CARBON COATING
TO SHAFT

ENCAPSULATED
THE
FEEDTHROUGHS

MODIFIED THE
GEAR WHEEL
MATERIAL

99%
of shaft wear, addressed4

96%
of internal shorting, addressed4
93%
corrosion to drive gear, addressed4
GIVING YOU CONFIDENCE PROGRAMMING
SIMPLICITY AND INNOVATION
Wireless Communicator SynchroMed™ II Pump Clinician Programmer; Medtronic provides the latest in programming technology with the SynchroMed™ II Clinician Programmer featuring visuals, workflow guides, a vibrant backlit screen and a wireless communicator to help simplify programming.
Designed to: Be easy to use. Give you confidence. Be modern.
* Projected performance improvement based on engineering bench (i.e. non-clinical) testing. The implementation of these three design changes does not imply an equivalent percent reduction in motor stall.
1. Medtronic data on file. PSR 2018. Public report accessible at https://www.medtronic.com/content/dam/medtronic-com/products/product-performance/ppr-reports/2018-TDD-Report.pdf
2. Medtronic data on file. Proportion Analysis of SynchroMed II PSR Motor Stall c300 Events NDHF1119-166522 v2.0.
3. Based on all pumps returned and analyzed for motor stalls
4. Medtronic data on file. The implementation of these three design changes does not imply an equivalent percent reduction in motor stall