WORLD
PARKINSON'S DAY
APRIL 2020
LIVING WITH
PARKINSON'S
We understand the impact Parkinson's disease can have on you and your loved ones. The loss of independence can be frustrating and emotionally draining for patients and carers alike. That's why we're committed to developing therapies that have a real impact on patient quality of life. Many people with Parkinson's regain the ability to perform daily activities, so they and their loved ones can get back to living life - together.
JANET'S
STORY
After being on medication for her Parkinson's disease for several years, Janet was experiencing severe dyskinesia. Deep brain stimulation enabled her to get back to doing what she enjoys.
Janet's now a Medtronic DBS Ambassador and is available to talk to you about her experience with DBS.
MATTHEW'S
STORY
"When you have Parkinson's a lot of things can take forever, like making a drink, brushing your teeth, getting dressed. DBS has made it all so much easier."
Matthew is a Medtronic DBS Ambassador. He's available to talk to you about how the therapy has helped him live life with Parkinson's disease.
MEDTRONIC
DBS THERAPY
Medtronic started developing deep brain stimulation in 1987, and has been the leader in the field ever since. The Medtronic DBS System is backed by decades of research, innovation and experience and today over 175,000 people have received DBS.
FIND OUT MORE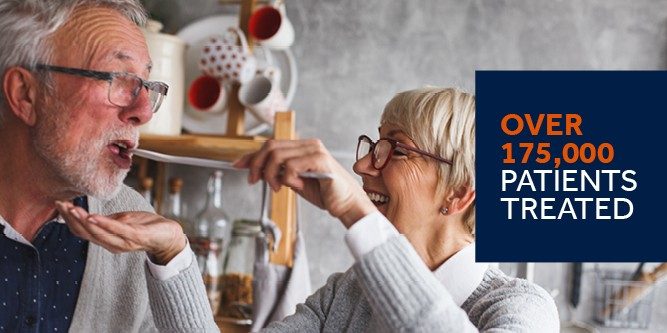 UNDERSTAND WHEN IS THE BEST TIME
TO CONSIDER DBS THERAPY1
Oral medications are controlling symptoms:
Start thinking about DBS
Oral medications are still working but not so effectively:
DBS may be a good option
Symptoms no longer respond to oral therapies: DBS is no
longer an option
1
Okun MS, Foote KD. Parkinson's disease DBS: what, when, who and why? The time has come to tailor DBS targets. Expert Rev Neurother. 2010 December ; 10(12): 1847–1857".