WHY USE IDD Therapy?
Intrathecal drug delivery is an effective way to manage chronic pain, with lower doses than oral medication.1,7
An implantable pump is connected to a thin, flexible tube that releases the pain medication directly into the fluid surrounding the spinal cord, in an area called the intrathecal space. Because Intrathecal drug delivery releases small amounts of medication, pain can be controlled with a fraction of the oral medication dose.1,7 Intrathecal drug delivery may provide relief when other treatments - like oral medications or injections - have not.
A key advantage of intrathecal drug delivery is that you can try it first and experience how the therapy may work for you. You'll learn about this trial in the next few pages.
HOW DOES THE PUMP WORK?
An IDD pump delivers prescribed amounts of pain medication directly into the fluid that surrounds the spinal cord. This area is called the intrathecal space.
A surgeon places the IDD pump just under the skin of the abdomen. The pump is programmed wirelessly to release the amount of medicine as prescribed by your doctor.
In some case, the pump maybe prescribe with a remote control that allow the patient to inject extra boluses of drugs if pain should arise. The amount of bolus and quantity of drug is predefined by the physician. The pump is CE marked for use with predetermined drugs and covered by private and public insurance companies across Europe.
WHEN OTHER TREATMENTS AREN'T WORKING
Many people can control pain well enough with oral medication, physical and occupational therapy, or injection therapy. However, some people find that these treatments don't work well enough or have intolerable side effects. Chronic non-malignant pain indications for targeted drug delivery include, but are not limited to4,5:
Postlaminectomy syndrome
Chronic compression fractures
Spinal stenosis, spondylosis
Spondylolisthesis
Complex regional pain syndrome (crps)
Neuropathies
Rheumatoid arthritis
Chronic pancreatitis
WHY CONSIDER AN IDD PUMP?
If treatments like pills or injections aren't giving you enough relief from severe pain, talk to a specialist about a treatment option called intrathecal drug delivery.
This is an advanced drug delivery system which is implantable inside the body. It could be suitable for you if:
You aren't getting enough pain relief from other treatments
You're struggling with drug side effects like constipation, nausea and somnolence3
You suffered chronic pain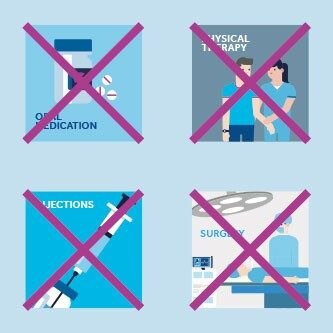 Intrathecal drug delivery may provide relief when other treatments - like oral medications or injections - have not. It may give you greater comfort and control, allowing you to rethink what's possible with your lifestyle and managing your condition.1,2,6
LESS MEDICATION NEEDED
At doses high enough to be effective for some patients, pain killers can cause side effects such as constipation, nausea and somnolence.3
Because it is an intrathecal drug delivery system, the pain medication is delivered directly to the fluid flowing around the spine. When medicine is placed right where it is needed, you need less. Intrathecal drug therapy therefore may help minimise some of the possible side effects that may accompany pain medication.1,7
TRY IT FIRST
Like test driving a car, the trial allows you to "test drive" intrathecal drug delivery before committing to long-term therapy. The trial allows you to:
Assess how intrathecal drug delivery may relieve your pain during daily activities
Experience how it feels to receive pain medication targeted to the intrathecal space
Decide if you want to go ahead with an implant

WHAT TO EXPECT
Intrathecal drug delivery doesn't cure the underlying disease, but it may help you better manage your chronic pain. Here's what to expect:
Before the trial, you may have a psychological evaluation to help determine if you are a candidate
Your physician may ask you to reduce or stop taking oral pain medications before the trial
Your physician will recommend the trial method that makes the most sense for your situation and discuss the risks of the procedure with you
After the trial, you and your physician will discuss your experience and decide if an implantable targeted drug delivery system is right for you
"Pain took my life away. The pump gave it back to me. I'm back to enjoying things I want to do. I'm getting out with my dogs and playing with them. Life is good again."
Sherry*
*Every patient experience is unique. Not everyone who receives Medtronic Intrathecal Drug Delivery therapy will experience the same results.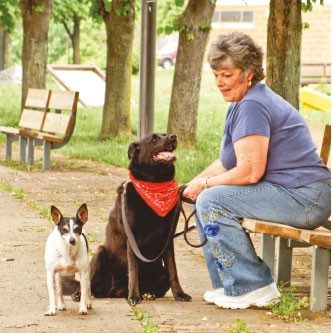 HOW WILL IT IMPROVE YOUR LIFE?
IDD can reduce the impact of pain by:
Improving ability to function and participate in day-to-day activities6

Effectively pain relief1-2
Decreasing or removing need for oral pain medication2,8,9
ADAPTED TO YOUR NEEDS
Your pump will be programmed to deliver the exact dose you need and can even vary the amount of intrathecal pain medication at different times of day. Your doctor will select the regimen that suits best your needs.
Your doctor can decide to prescribe the optional myPTM™ personal therapy manager that allows you to activate delivery of physician-programmed supplemental doses of medication, this helps you manage unpredictable pain.
CAN BE REVERSED
IDD therapy can be turned off by your doctor, or, if desired, the pump and catheter can be surgically removed.
PROVEN HISTORY
Doctors have been prescribing IDD therapy since 1992, when it was approved by the FDA in the United States. The same Medtronic pump is also used to deliver pain medication for many patients worldwide.
The SynchroMed™ II drug infusion pump is an implantable, battery-powered device that stores and dispenses medication inside the body. The pump delivers the medicine to the fluid around the spine through a thin, flexible tube called a catheter.
A doctor programs the pump to release a prescribed amount of medication.
Both the amount and timing can be adjusted by your doctor as your needs change. For treatment of pain, the pump delivers morphine or ziconotide.
FEATURES
The SynchroMed™ II is an advanced drug delivery system which has a range of features aimed at controlling your pain1,2
Programmed for your needs – Your doctor programs the device to specify how much medication should be delivered. Later, if your pain symptoms increase your doctor can adjust the dose
Flex dosing – The pump can be programmed to vary the amount of medication up to 13 different times throughout a day, so you get more or less drug when you need it. Programming can also vary from day to day to match your scheduled activities
Storage of device information – The pump stores important data about your device and settings, so you do not need to carry records if you travel or change clinics. A doctor accesses the information with a clinician programming device
Predictable replacement – An alarm will sound before the battery runs out, so you have plenty of time to plan for replacement
MRI conditionally safe – The pump allows for full body MRI scans under specific conditions
WHAT IS MYPTM™?
The myPTM™ personal therapy manager works with the SynchroMed™ II pump and may help alleviate patients' unpredictable pain by delivering a bolus of medication* when needed, within the physician's programmed parameters:
Set a therapeutic daily dose and allow for on-demand bolusing within limits
Help customize your treatment with the change in pain level10
MyPTM™ gives insight for improved therapy management with patient reports. It can help your physician to make informed dosing adjustment using myPTM™ reports.
MYPTM™ IS EASY TO USE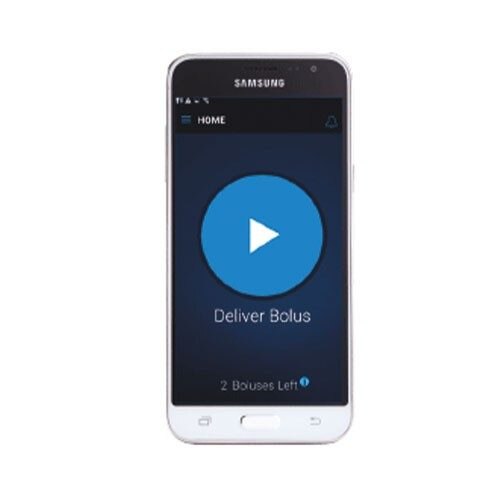 Simple visual communication, using friendly design, help you manage your therapy with ease.
The myPTM™ screens feature clear and informative bolus confirmations, lockout details, and alerts.
Brief Statement
Information contained herein does not replace the recommendations of your healthcare professional. See the device manual for detailed information regarding the instructions for use, indications, contraindications, warnings, precautions, and potential adverse events. For further information, contact your healthcare professional.
*myPTM™ is approved for use with morphine (not ziconotide), but contraindicated in patients who are opioid naive.
1
Hamza M, Doleys D, Wells M, et al. Prospective study of 3-year follow-up of low dose intrathecal opioids in the management of chronic nonmalignant pain. Pain Med. 2012;13:1304-1313.
2
Deer T, Chapple I, Classen A, et al. lntrathecal drug delivery for treatment of chronic low back pain: report from the National Outcomes Registry for Low Back Pain. Pain Med. 2004;5:6-13.
3
Kalso E, Edwards J, Moore A, McQuay HJ. Opioids in chronic non-cancer pain: systematic review of efficacy and safety. Pain. 2004 Dec;112(3):372-80. 
4
Deer TR, Pope JE, Hayek S, et al. The Polyanalgesic Consensus Conference (PACC): Recommendations on intrathecal drug infusion systems best practices and guidelines. Neuromodulation 2017;20(2): 96 -132.
5
Deer TR, Pope JE, Hanes MC, McDowell GC. Intrathecal Therapy for Chronic Pain: A Review of Morphine and Ziconotide as Firstline Options, Pain Med. 2019 Apr 1;20(4):784-798.
6
Roberts LJ, Finch PM, Goucke CR, Price LM. Outcome of intrathecal opioids in chronic non-cancer pain. Eur J Pain. 2001;5:353-361.
7
Grider JS, Etscheidt MA, Harned ME, et al. Trialing and maintenance dosing using a low-dose intrathecal opioid method for chronic nonmalignant pain: a prospective 36-month study. Neuromodulation. 2016;19(2):206-219. 
8
Caraway D, Walker V, Becker L, Hinnenthal J Successful Discontinuation of Systemic Opioids After Implantation of an Intrathecal Drug Delivery System. Neuromodulation. 2015 Aug;18(6):508-15.
9
Hatheway JA, Bansal B, Nichols-Ricker CI. Systemic opioid reduction and discontinuation following implantation of intrathecal drug-delivery systems for chronic pain: a retrospective cohort analysis. Neuromodulation. 2019 Oct 11. doi: 10.1111/ner.13053. [Epub ahead of print]
10
Ilias W, le Polain B, Buchser E, Demartini L. Patient-controlled analgesia in chronic pain patients: experience with a new device designed to be used with implanted programmable pumps. Pain Pract. 2008;8(3):164-170.
11
Bhatia G, Lau ME, Koury KM, Gulur P. Intrathecal Drug Delivery (ITDD) systems for cancer pain. F1000Research. 2014;2:96. doi: 10.12688/f1000research.2-96.v4