SPINAL CORD INJURY
about this condition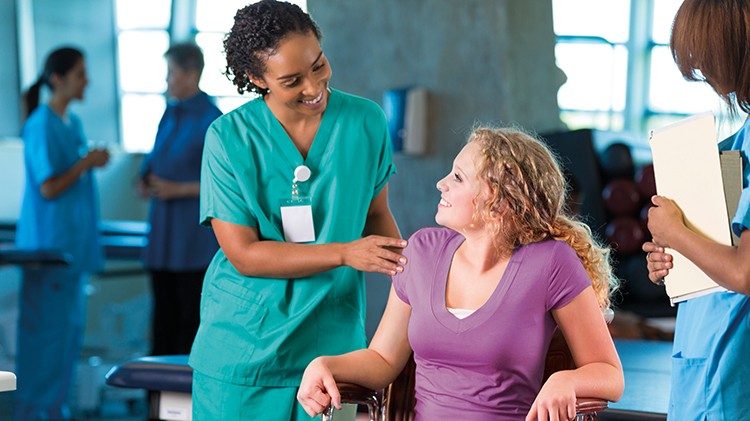 A spinal cord injury involves damage to any part of the spinal cord or nerves which causes a change in function, either temporarily or permanently. If you have a spinal cord injury, you are not alone. In Europe, 200,000 people have spinal cord injuries and there are many more worldwide.1
Nearly 30% of people with a spinal cord injury experience severe spasticity, a continuous involuntary contraction of certain muscles causing stiffness or tightness.2-4,6 Because of these contractions, spasticity can interfere with a person's normal movements, speech or posture.
Fortunately, there are effective treatments to manage spasticity caused by spinal cord injuries which can reduce its impact and improve quality of life.
WHAT CAUSES SPINAL CORD INJURY?
There are many possible causes for a spinal cord injury. Usually, it results from a sudden traumatic blow to the spine which fractures, dislocates, crushes or compresses one or more of the vertebrae.7
Accidents are one of the leading causes of spinal cord injury, including motor vehicle accidents, falls or sports injuries. Spinal cord injuries sometimes result from acts of violence such as gunshot wounds.7,8 They can also be caused by surgical complications, infection of the spinal cord, or spinal cord diseases (for example osteoporosis, arthritis, and spinal tumors).8
WHO IS AT RISK FROM SPINAL CORD INJURY?
Spinal cord injury can happen to anyone. However, some people are at higher risk, including7,8:
In the US, 80%
of all spinal cord injury
survivors are male
More than half
of all spinal cord injuries happen to people age 16-30
Elderly people:

usually as a result of falls

People active in high-risk sports:

for example, playing sport without proper protective equipment or motor sports (as a result of crashes)

People with bone or joint conditions:

for example, arthritis or osteoporosis
WHAT ARE THE SYMPTOMS OF SPINAL CORD INJURY?
The symptoms of spinal cord injury depend on the type of injury and its severity. There are two main types of spinal cord injury: complete and incomplete. With a complete spinal cord injury, there is no sensation and no voluntary movement below the level of the injury. With an incomplete spinal cord injury, there is some remaining functioning below the primary level of the injury.8
The symptoms of spinal cord injury include:8
Extreme pain or pressure in the neck, head or back
Tingling or loss of sensation in the hand, fingers, feet or toes
Urinary or bowel urgency, incontinence, or retention
Difficulty with balance and walking
Abnormal band-like sensations in the thorax (pain, pressure)
Impaired breathing
In addition, studies show that most spinal cord injury survivors have at least one secondary problem resulting from their injury, including:5
Spasticity
Obesity
Pain
Urinary tract infection
Pressure sores
HOW IS SPINAL CORD INJURY DIAGNOSED?
A spinal cord injury diagnosis is usually determined by a loss of function below where the injury has occurred, as well as from other symptoms such as those listed above.
If your clinician suspects a spinal cord injury, he or she will take a detailed medical history, perform a full physical evaluation, and carry out specialised diagnostic tests8.
SPASTICITY AND SPINAL CORD INJURY
An injury that crushes or compresses the spinal cord can permanently damage the bundles of nerves that normally send messages between the brain and the rest of the body.
This nerve damage can significantly affect movement or sensation. By interrupting the messages to the muscles, the injury can lead to the muscle tightness and spasms known as spasticity.
Spasticity can make movement, posture and balance difficult. It may affect your ability to move one or more of your limbs, or to move one side of your body. Sometimes, spasticity is so severe that it gets in the way of daily activities, sleep patterns and caregiving.
SPINAL CORD INJURY
200,000 people in Europe suffer a spinal cord injury.1
Nearly 30%
living with severe spasticity2-4,6
One of the possible symptoms of spinal cord injury is spasticity, which is a movement disorder where muscles become tight, stiff and difficult to control.3-7
Across studies, spasticity is reported to develop in 40-68% of patients with spinal cord injury.2-4,10

Nearly 30% of patients with spinal cord injury may experience disabling spasticity.2-4,6

Patients with cervical injuries are more likely to experience spasticity than patients with thoracic or lumbosacral level injuries.2-4
incidence and prevelance of spinal cord injury differ between developing and developed countries9
A 2017 multi-centre study from the Netherlands examining community-dwelling spinal cord injury patients who used a wheelchair for everyday mobility (N=110), found that more than half of participants experienced restrictions on functioning due to spasticity, persisting at 5 years post-discharge from their first inpatient rehabiltation.6
1
Antibodies against Nogo-A to enhance plasticity, regeneration and functional recovery after acute spinal cord injury, a multicenter European clinical proof of concept trial, EuropeanCommission https://cordis.europa.eu/project/rcn/198795/factsheet/en (accessed on March 2020)
2
Skold C, Levi R, Seiger A. Spasticity after traumatic spinal cord injury: nature, severity, and location. Arch. Phys. Med. Rehabil. 1999;80(12):1548-1557.
3
Levi R, Hultling C, Seiger A. The Stockholm Spinal Cord Injury Study: 2. Associations between clinical patient characteristics and post-acute medical problems. Paraplegia.1995;33(10):585-594.
4
Maynard FM, Karunas RS, Waring WP, 3rd. Epidemiology of spasticity following traumatic spinal cord injury. Arch. Phys. Med. Rehabil. 1990;71(8):566-569
5
Anson C, Shepherd C. Incidence of secondary complications in spinal cord injury. Int J Rehabil Research 1996;19:55-66.
6
Johnson RL, Gerhart KA, McCray J, Menconi JC, Whiteneck GG. Secondary conditions following spinal cord injury in a population-based sample. Spinal Cord. 1998;36(1):45-50.
7
The Mayo Clinic. Spinal Cord Injury. Available at: www.mayoclinic.com. Accessed March 2020
8
American Association of Neurological Surgeons. Spinal Cord Injury. Available at: https://www.aans.org/en/Patients/Neurosurgical-Conditions-and-Treatments/Spinal-Cord-Injury. Accessed March 2020
9
Singh A, Tetreault L, Kalsi-Ryan S, Nouri A, Fehlings MG. Global prevalence and incidence of traumatic spinal cord injury. Clin. Epidemiol. 2014;6:309-331.
10
Noreau L, Proulx P, Gagnon L, Drolet M, Laramee MT. Secondary impairments after spinal cord injury: a population-based study. Am. J. Phys. Med. Rehabil. 2000;79(6):526-535.