WHAT IS BACLOFEN?
Baclofen is a muscle relaxer and a common medication for treating spasticity symptoms. Taken orally, baclofen works well for many people, but in some may cause debilitating side effects like muscle weakness, somnolence, nausea and dizziness.2
WHY USE A PUMP WITH BACLOFEN?
When baclofen is taken orally as a pill, most of the drug stays in the bloodstream. Only a small amount reaches the fluid surrounding the spinal cord (the final destination of the drug), even at very high doses.1,2
In contrast, a drug pump delivers baclofen directly into the spinal fluid. By using an ITB system, medicine is delivered right where it is needed so you need less. This may help improve efficacy and minimise some of the possible side effects that may accompany oral baclofen.1, 2, 11, 12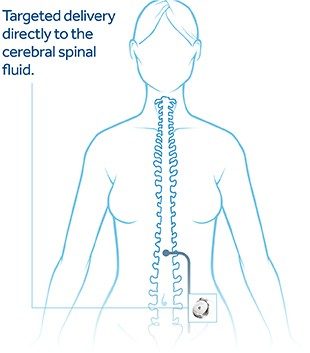 how does the pump work?
A baclofen pump delivers prescribed amounts of intrathecal baclofen (a liquid form of baclofen) directly into the fluid that surrounds the spinal cord. This area is called the intrathecal space.
A surgeon places the baclofen pump just under the skin of the abdomen. The pump is programmed wirelessly to release the amount of medicine as prescribed by your doctor.
Treatment with a baclofen pump is also called Intrathecal Baclofen therapy (ITB therapy). The pump is CE marked for use with predetermined drugs and covered by private and public insurance companies across Europe.
WHEN OTHER TREATMENTS AREN'T WORKING
Many people can control spasticity well enough with oral medication, physical and occupational therapy, or injection therapy. However, some people find that these treatments don't work well enough or have intolerable side effects.
WHY CONSIDER A BACLOFEN PUMP?
If treatments like pills or injections aren't giving you enough relief from severe spasticity, talk to a specialist about a treatment option called ITB Therapy.
This is an advanced drug delivery system which is implantable inside the body and is commonly referred to as an baclofen pump. It could be suitable for you if:
You aren't getting enough relief from other spasticity treatments
You're struggling with drug side effects like muscle weakness, somnolence, nausea and dizziness2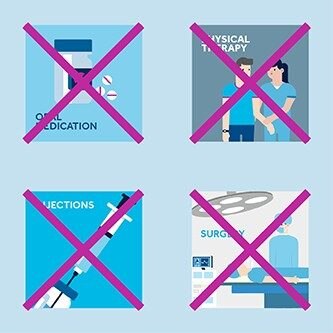 Baclofen pumps is suitable in patients whose body size is sufficient to accept pump bulk and weight.
The right treatment may make work, school, activities and caregiving easier. It may give you greater comfort and control, allowing you to rethink what's possible with your lifestyle and managing your condition.3, 4, 6, 9, 10, 13, 14, 17, 19-21
less medication needed
At doses high enough to be effective for some patients, oral baclofen can cause side effects such as muscle weakness, somnolence, nausea and dizziness.2
Because it is a targeted drug delivery system, a baclofen pump delivers the intrathecal baclofen directly to the fluid flowing around the spine. When medicine is placed right where it is needed, you need less. ITB therefore may help minimise some of the possible side effects that may accompany oral baclofen.1, 2, 11, 12
try it first
A screening test provides you and your doctor with an opportunity to discover whether your body will respond to the treatment before you proceed with surgery.
Possible temporary side effects of the screening test include:18
Post lumbar puncture headache
Infection
Bleeding
Damage to the spinal cord
Back pain
Drug side effect
HOW WILL IT IMPROVE YOUR LIFE?
ITB Therapy can reduce the impact of spasticity for some people and lower the impact of side effects compared to oral baclofen. Follow the links to see the evidence of its efficacy in relation to particular conditions:
Spinal cord injury
Multiple sclerosis
Brain injury
Cerebral palsy
Stroke
73% of patients are satisfied with spasticity reduction and would recommend the therapy.4
Up to 94% of patients would agree to pump implantation again.15
PROGRAMMED FOR YOUR NEEDS
Your pump will be programmed to deliver the prescribed dose you need and can even vary the amount of intrathecal baclofen at different times of day.
Let's say you need more medication at night to reduce spasticity so you can sleep better, and less in the morning when spasticity is making transfers easier. Your doctor could adjust the timing of your doses to meet your needs.
Programming can also vary from day to day to match your scheduled activities. For example, you might need less or more medication on the day of a physical therapy appointment.
Treatment with an intrathecal baclofen pump won't cure severe spasticity or the medical condition causing it, but it may help control your spasticity long term by reducing spasticity symptoms.5-8,13,16
CAN BE REVERSED
ITB therapy can be turned off by your doctor, or, if desired, the pump and catheter can be surgically removed.
PROVEN HISTORY
Doctors have been prescribing ITB Therapy since 1992, when it was approved by the FDA in the United States. The same Medtronic pump is also used to deliver pain medication for many patients worldwide.
The SynchroMed™ II drug infusion pump is an implantable, battery-powered device that stores and dispenses medication inside the body. The pump delivers the medicine to the fluid around the spine through a thin, flexible tube called a catheter.
A doctor programs the pump to release a prescribed amount of medication. Both the amount and timing can be adjusted by your doctor as your needs change. For treatment of severe spasticity, the pump continuously delivers a liquid form of baclofen, while for pain the pump delivers morphine or ziconotide.
FEATURES
The SynchroMed™ II is an advanced drug delivery system which has a range of features aimed at controlling your pain1,2
Programmed for your needs – Your doctor programs the device to specify how much medication should be delivered. Later, if your pain symptoms increase your doctor can adjust the dose
Flex dosing – The pump can be programmed to vary the amount of medication up to 13 different times throughout a day, so you get more or less drug when you need it. Programming can also vary from day to day to match your scheduled activities
Storage of device information – The pump stores important data about your device and settings, so you do not need to carry records if you travel or change clinics. A doctor accesses the information with a clinician programming device
Predictable replacement – An alarm will sound before the battery runs out, so you have plenty of time to plan for replacement

MRI conditionally safe

– The pump allows for full body MRI scans under specific conditions (MR scans performed under different settings or conditions may result in a life threatening injury or device malfunction. You should inform the doctor and MRI technicians that you have an implanted device prior to your MRI examination appointment.)
Brief Statement
Information contained herein does not replace the recommendations of your healthcare professional. See the device manual for detailed information regarding the instructions for use, indications, contraindications, warnings, precautions, and potential adverse events. For further information, contact your healthcare professional.
1
Barnes MP, Johnson GR. Upper motor neurone syndrome and spasticity: Clinical management and neurophysiology: Cambridge University Press. 2008
2
Ertzgaard P, Campo C, Calabrese A. Efficacy and safety of oral baclofen in the management of spasticity: A rationale for intrathecal baclofen. J Rehabil Med. 2017;49:193 -203.
3
Ramstad K, Jahnsen R, Lofterod B, Skjeldal OH. Continuous intrathecal baclofen therapy in children with cerebral palsy – when does improvement emerge? Acta Paediatr. 2010;99(11):1661–1665.
4
Creamer M, Cloud G, Kossmehl P. et al. Effect of intrathecal baelofen on pain and quality ornre in poststroke spasticity: A randomized trial (SISTERS). Stroke. 2018;49:2129-2137.
5
Albright AL, Gilmartin R, Swift D et al.Long-term intrathecal baclofen therapy for severe spasticity of cerebral origin. J Neurosurg. 2003;98(2):291-295.
6
Rawicki B. Continuous intrathecal baclofen delivered via an implantable pump: long-term follow-up review of 18 patients. J Neurosurg. 1999;91(5):733-736.
7
Azouvi P, Mane, M, Thiebaut, J B, Denys, P, Remy-Neris, O, Bussel, B. Intrathecal baclofen administration for control of severe spinal spasticity: functional improvement and long-term follow-up. Arch Phys Med Rehabil. 1996;77(1):35-9.
8
Sammaraiee Y, Yardley M, Keenan L et al. Intrathecal baclofen for multiple sclerosis related spasticity: A twenty year experience. Mult Scler Relat Disord. 2018 Oct 15;27:95-100.
9
Ivanhoe CB, Francisco GE, McGuire JR, et al. Intrathecal baclofen management of poststroke spastic hypertonia: implications for function and quality of life. Arch Phys Med Rehabil. 2006;87(11):1509 -15.
10
Guillaume D., Van Havenbergh A., Vloeberghs M., Vidal J., Roeste G. A clinical study of intrathecal baclofen using a programmable pump or intractable spasticity. Arch Phys Med Rehabil. 2005;86(11):2165-71.
11
Penn RD. Intrathecal baclofen for spasticity of spinal origin: seven years of experience. J Neurosurg. 1992;77(2):236–40. 
12
Meythaler JM, Guin-Renfroe S, Law C, et al. Continuously infused intrathecal baclofen over 12 months for spastic hypertonia in adolescents. Arch Phys Med Rehabil. 2001 Feb;82(2):155–61. 
13
Vles GF, Soudant DL, Hoving MA et al. Long-term follow-up on continuous intrathecal baclofen therapy in non-ambulant children with intractable spastic cerebral palsy. Eur. J. Paediatr Neurol. 2013;17(6):639-644.
14
Hoving MA, van Raak EP, Spincemaille GH et al; Dutch Study Group on Child Spasticity. Safety and one-year efficacy of intrathecal baclofen therapy in children with intractable spastic cerebral palsy. Eur J Paediatr Neurol. 2009; May;13(3):247-56.
15
Sadiq SA, Wang GC. Long-term intrathecal baclofen therapy in ambulatory patients with spasticity J Neurol (2006) 253: 563 -569.
16
Coffey RJ, Cahill D, Steers W. Intrathecal baclofen for intractable spasticity of spinal origin: results of a long-term study. J Neurosurg, 1993;78(6):226-232.
17
Motta F, Antonello CE, Stignani C. Intrathecal baclofen and motor function in cerebral palsy. Dev Med Child Neurol. 2011;53(5):443–448.
18
Johnson KS, et Daniel JS.  Lumbar puncture: Technique, indications, contraindications, and complications in adults. https://www.uptodate.com/contents/search. Accessed February, 2020
19
Schiess MC, Oh IJ, Stimming EF et al. Prospective 12-month study of intrathecal baclofen therapy for poststroke spastic upper and lower extremity motor control and functional improvement. Neuromodulation. 2011;14(1):38-45.
20
Delhaas EM. Long-term outcomes of continuous intrathecal baclofen infusion for treatment of spasticity: A prospective multicenter follow-up study. Neuromodulation. 2008;11(3):227-236.
21
Natale M, D'Oria S, Nero VV, Squillante E, Gentile M, Rotondo M. Long-term effects of intrathecal baclofen in multiple sclerosis. Clin Neurol Neurosurg. 2016;143:121-5.