SURGICAL HEART VALVE REPAIR AND REPLACEMENT
The right procedure
for the right patient
Supporting your choice of surgical therapies for your patients with coronary artery disease.
LEARN MORE
Surgical Ablation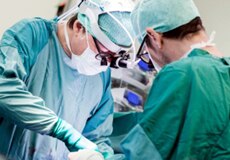 Controlling temperature is key to achieving conduction block during surgical ablation procedures.
LEARN MORE
This page may include information about products that may not be available in your region or country. Please consult the approved indications for use. Content on specific Medtronic products is not intended for users in markets that do not have authorization for use.