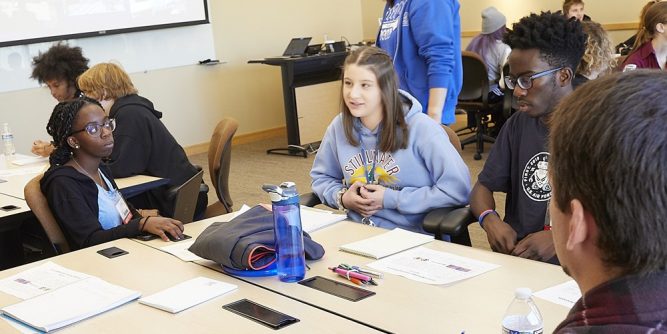 Live Events for
jumpstart by medtronic

Virtual Training for FIRST® Robotics Teams
November 14, 2020 Schedule
Review the agenda and join sessions by clicking their related Zoom links below during the designated time.
Join Welcome and Live Stream of Automation at Delta ModTech
Todd Kruse, Delta ModTech Electrical Engineer, Lead FIRST® Mentor with 7068, 8516, & 4607
Join the welcome session for networking, and a live stream of automation at Delta ModTech. Experience live machine demonstrations, a shop floor walk through, an overview of Delta ModTech with second generation owner Wendy Stromberg, and interview with FIRST Alumni and current Delta intern.
9:35 – 10:25 A.M. CT
Round 1 Breakout Sessions
Join Room 1: Improved 3D Printing by Better Understanding the Technology
Team 2220
While 3D printing is a true disruptive technology, it has unique characteristics and limitations that must be understood and respected to produce the best possible parts. In this session we will discuss the 3D printing process from CAD, to slicing, to print orientation, so students can make appropriate choices for the strength and appearance of their parts.
Join Room 2: Manipulators Part 2
Mark Durand (3023)
Looking deeper into the abyss of past FRC games, Mark will showcase what manipulators have been used, with a focus on field element manipulators.
Join Room 3: Engineering Notebook
Christine Altenhofen-Sonner
While the Engineering Notebook can have a bad reputation for being everyone's least favorite homework assignment – remember this: The team members and the robot can prepare as much as possible for tournament day, but we all know, something will inevitably go wrong on tournament day.
Join Room 4: Safety Essentials
Team 2177
This session will cover several aspects of team safety, specifically geared toward safety captains and safety enthusiasts in general! From COVID preparation plans to kit materials to creating an engaging safety culture, this presentation will help prepare your team for the season ahead!
Join Room 5: SWOT Analysis
Team 4607
Learn how this high-level strategic planning tool can help your team. Reflective analysis and predictive planning are key components to this system.
10:35 – 11:25 A.M. CT
Round 2 Breakout Sessions
Join Room 1: Electrical Panel 101
Team 7068
You need to build a robot. Therefore, you need to know electrical, including energy budget, components, and wiring. Learn how to do these the correct way.
Join Room 2: Intro to Custom Vision Processing for FRC
Team 1816
Do you want to get into custom vision processing solutions, but don't know where to start? Learn how to create your team's custom solution. We will introduce the basic hardware required, and provide guidance for getting started in OpenCV, a python library for vision used by workforce professionals. We will also discuss how to use NetworkTables in vision and different styles of detection, providing real time, accurate data for your drivers and code.
Join Room 3: Unit Testing for Robot Programs
Team 2239
Unit testing is often overlooked by FRC teams, leading to bugs and less maintainable code. This session will introduce unit testing and teach participants how to write unit tests for common components of a Java command-based robot program, including Commands and Subsystems. In addition, participants will learn how to integrate unit tests with GitHub Actions, run unit tests in VSCode, and create mock objects.
Join Room 4: Captaining Basics
Team 2177
We will cover several key practices to set captains, from first years to veterans, on a successful course for the season. We will also discuss strategies for planning, productive co-leadership, and documentation. These tips, based on experience, will help captains of every type get organized, and discover different approaches to leadership.
Join Room 5: Media Technology
Team 4607
Team members from 4607's media department will be sharing tips and tricks that they have honed over time. The team will also share the technology (cameras, mics, laptops, etc.) that they use to capture moments.
11:35 – 12:25 A.M. CT
Round 3 Breakout Sessions
Join Room 1: Java Programming
Team 7028
FRC Java 101. Join this session to learn how to get setup and write your first FRC Java program. Using Java as example for implementing new IDE, Visual Studio Code, and to setup libraries.
Join Room 2: CTRE Motion Magic
Corey Applegate (3244)
Using Cross the Road Electronic motor controllers, learn how to use the Motion Magic motion profile mode.
Join Room 3: Spreadsheet Math
Team 2239
The often joked about, overlooked, super-powered, light weight tool... the spreadsheet! For most of your math and engineering calculation needs, don't make another sheet of chicken scratch that you're going to lose, use a spreadsheet. Enhance your skills with the tool that makes the world work. Spreadsheets are great for finances, math homework, rocket trajectories, gear sizing, engineering calculations, and even a to-do list.
Join Room 4: Leveraging your FIRST Experience
Team 2502
Learn how to make the most of your FIRST experience.
Join Room 5: FMEA
Team 4607
Learn failure mode and effects analysis from the team that redefined their season. FRC 4607 and their FMEA Mentor will showcase how to create a process that will make your robot better through the season.