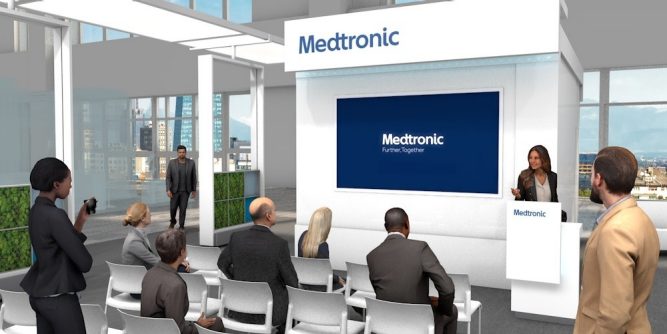 TCT CONNECT 2020
EVENT SCHEDULE

Join the many events available at TCT Connect.
On Demand

Moderator: Prof. Goran Stankovic
Visible Heart® Laboratory history and overview (Dr. Paul Iaizzo)​
EBC Philosophy of Provisional side branch stenting (Prof. Jens Lassen)​
Bailout two stent bifurcation techniques (T/TAP) – (Prof. Goran Stankovic)​
Functional modeling, virtual reality, and learning modalities (Dr. Paul Iaizzo)​

Co Moderators: Dr. Michael Mack & Dr. Susheel Kodali
Medtronic Intrepid Transcatheter Mitral Valve Replacement Program & APOLLO Trial Update​ (Dr. Martin Leon)*
Intrepid in MAC​ (Dr. Andrew Rassi)*
Mitral Transfemoral Valve Replacement Early Feasibility Study​ (Dr. Firas Zahr and Dr. Hemal Gada)
Tricuspid Transfemoral Valve Replacement Early Feasibility Study​ (Dr. Vinayak Bapat)
Medtronic Mitral and Tricuspid Pipeline Update​ (Prof. Pieter Kappetein)
Moderator: Dr. Michael Reardon ​
SE TAVR hemodynamics and long-term durability (Dr. Howard Herrmann) ​
TAVR view and implantation considerations (Dr. Hamal Gada)​
Commissural alignment and coronary access (Dr. Toby Rogers)​
Are we ready for a TAVR trial in women? (Dr. Roxana Mehran)​
Moderator: Dr. David Kandzari ​
HBR Real World Case Study from the US (Dr. Ronald Caputo)​
HBR Real World Case Study from China (Dr. Jie Zhao)​
Panel Discussion/Q&A​

Moderator: Prof. Nicolas Van Mieghem​
Evidence-Based Patient Selection (Dr. John Forrest)​
Sizing and procedural best practices (Dr. Didier Tchetche)​
Tough calls: TAVR vs SAVR for bicuspid† patient (Dr. Kendra Grubb)​

Moderator: Dr. Thomas Zeller
Drug-Coated Balloons: What is the Clinical Evidence for Long-Term Effectiveness & Safety that Guides Your Practice? (Dr. Sahil Parikh)
Planning Your Case for Optimal Patient Outcomes: Versatility is Essential (Dr. Peter Monteleone)​
Pulling it All Together to Reduce Reintervention in Advanced PAD: What Tools to Choose and How to Use (Dr. Mehdi Shishehbor)

*
Caution: Investigational device. Limited by United States law to investigational use. Exclusively for clinical investigations.
†
Limited clinical data are available for transcatheter aortic valve replacement in patients with a congenital bicuspid aortic valve who are deemed to be at low surgical risk. Anatomical characteristics should be considered when using the valve in this population. In addition, patient age should be considered as long-term durability of the valve has not been established.