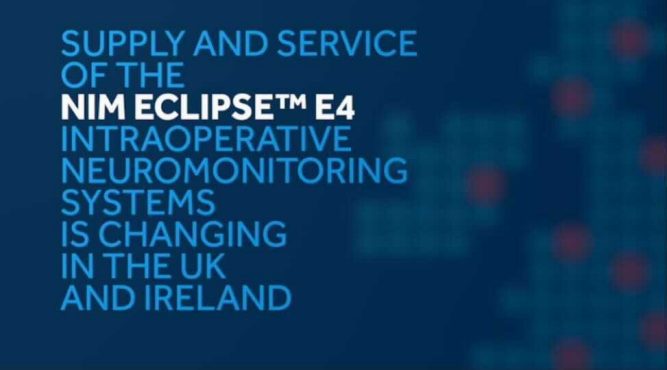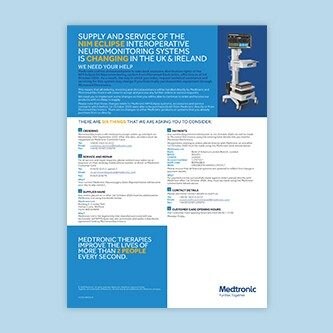 SUPPLY AND SERVICE OF THE NIM ECLIPSE INTRAOPERATIVE NEUROMONITORING SYSTEMS IS CHANGING IN THE UK & IRELAND
From 1st October 2020 the way in which you order, request technical assistance and servicing for the NIM Eclipse E4 Neuromonitoring systems may change if you have historically purchased the equipment via our distributer.
Download the information sheet to learn more about partnering directly with Medtronic.
DOWNLOAD NOW
Medtronic Ltd has accounted plans to take back exclusive distribution rights of the NIM Eclipse E4 Neuromonitoring system from Micromed Electronics, effective as of 1st October 2020. As a result, the way in which you order, request technical assistance and servicing for this system may change if you historically purchased this equipment through Micromed Electronics. Download the information sheet to learn more about these changes.
Medtronic has listened to feedback from our customers and as a result have put in place positive changes to ensure that you receive high level service and support directly from Medtronic moving forward.
We have a team of over 50 Cranial Spine Field Representatives who have now become your first point of contact, ensuring any questions or issues you may have can be resolved quickly.
By partnering with experienced neurophysiologists ensures we can provide high level technical support and education to both existing and prospective users.
We have an extensive network of certified Medtronic engineers who are now able to offer you a fully comprehensive on-site preventative maintenance on your NIM Eclipse system.
the complete solution for neurophysiologists
Ease of use
Predefined complex modalities like D-Wave, H-Reflex, procedures like Motor- and Language mapping and algorithms like Pedicle, Nerve Root and Nerve Proximity testing
Simple workflow
Thanks to software user interface and system design
Fast
Instant access and change on the fly of any parameter during recording
Highly flexible
More than 100 predefined tests for almost any type of surgery
Scalable
16 or 32 channel configurations, with or without the SD option- upgrade possible at any time after initial delivery
Easy to read and interpret
Predefined amplitude or latency warning criteria and events, automatic display of trends and stack windows
Precise
Add time-synchronized comments and video/audio recordings in order to correlate the neurophysiological data with the clinical situation
Accurate
Reduce the risk of false positive findings by importing vital sign parameters or connecting up to 2 pulse oximeters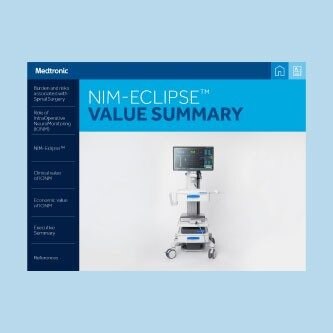 NEUROMONITORING
THE NEED FOR
SAFER SURGERY
Neuromonitoring with NIM Eclipse® E4 can help to detect intraoperative neurological injury during surgery and helps improve and document surgical outcome. It can help to enable optimised surgical strategy.
Download the NIM Eclipse® E4 Value Summary to learn more about the benefits of neuromonitoring in spine surgery.
DOWNLOAD NOW
TO REQUEST MORE INFORMATION OR A VISIT FROM A MEDTRONIC REPRESENTATIVE,

PLEASE FILL IN THE FORM BELOW
*Please note that, due to COVID-19 restrictions, footage has been filmed remotely and this may affect output quality.