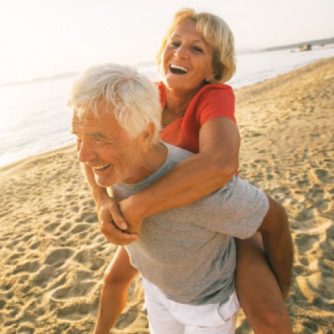 DO YOUR PATIENTS EXPERIENCE REGULAR BOWEL ACCIDENTS?

THERE IS HELP
Chronic faecal incontinence (FI) is a treatable condition. It's not a normal part of aging. Patients shouldn't have to deal with it on their own.
Medical technologies, including Medtronic Bowel Control Therapy (Sacral Neuromodulation), help make it possible for millions of people to resume everyday activities, return to work, and live better.
Your patient treatment options
For more information on your patients' different treatment options, please click below:
faecal incontinence (FI) IS EXTREMELY COMMON
That's about 27 million adults in Europe1,2 vs 20 million adults in Europe with Alzheimer's disease2,3 33 million adults in Europe with asthma2,4
faecal incontinence PREVENTS patients FROM LIVING A FULL LIFE
People with faecal incontinence reported5,6:
More depression

More embarrassment
Lower quality of life
Compared to people without FI.

8.5 out of 10 adults haven't told their doctor about their FI6
the WAY TO REAL CONTROL
There are many ways to manage chronic faecal incontinence. Remember, if conservative treatments don't deliver the results you need, you have more options.

Diagnosis
"What is happening?"
Patient's should make an appointment with their GP and ask for a referral to a specialist to see if they have chronic faecal incontinence.

LIFESTYLE

CHANGES
"What should patients try first?"
Relatively simple solutions can help some people, but may not work well for others.
Dietary modification
Physiotherapy
Bowel retraining (biofeedback)
Medications

ADVANCED

THERAPIES
"What if conservative treatments aren't enough?"
Sacral NEUROMODULATION
Therapy that uses gentle nerve stimulation, which is thought to normalise bowel-brain communication to control the symptoms of chronic faecal incontinence.
Medtronic Bowel Control Therapy delivered by the InterStim™ system
Enable patients to experience relief during an evaluation
89% of people who tried this therapy experienced long-term success7,*
Unlike other bladder control treatments, our therapy lets patients try it first. It's called an evaluation, and it's like a test run — not a long-term commitment.
THE EVALUATION SYSTEM
The external neurostimulator (ENS) generates the stimulation. This device may be worn externally on a belt. The programmer lets patient's adjust and manage their during the evaluation therapy.
THE ROAD TO RESULTS
Make the right choice for every patient with recharge-free and rechargeable options that are both full-body MRI eligible* - a choice only available from the trusted leader in sacral neuromodulation.
EXPANDED ELIGIBILITY
Proprietary SureScan™ technology allows patients with either InterStim™ system to get full-body* 1.5- and 3-T MRI scans, so you can bring life-changing results1,2 to an even wider range of people.
DEXTRANOMER AND SODIUM HYALURONATE
This gel is injected as an implant into the anal canal to thicken the tissues and improve symptoms of chronic faecal incontinence.
Does not address bowel-brain communication

May cause unpleasant side effects
OTHER SURGICAL OPTIONS
Several other surgical options are available, all of which bring their own unique set of risks.
Anal sphincter repair
Artificial sphincter
Colostomy
Antegrade colonic enema (ACE)
See the device manual for detailed information regarding the instructions for use, implant procedure, indications, contraindications, warnings, precautions, and potential adverse events. See the MRI SureScan® technical manual before performing an MRI. For further information, contact your local Medtronic representative or consult the Medtronic website at
www.medtronic.com
.
Consult instructions for use at this website. Manuals can be viewed using a current version of any major Internet browser. For best results, use Adobe Acrobat Reader® with the browser.
1. Giebel, G. D., Lefering, R., Troidl, H. & Blöchl, H. Prevalence of fecal incontinence: what can be expected? Int. J. Colorectal Dis.13, 73–7 (1998).
2. Eurostat Data Explorer for EU28: https://ec.europa.eu/eurostat/data/database.
3. Niu et al. Neurologia volume 32, issue 8, pp. 523-532 (2017).
4. Selroos et al. European Respiratory Review 24:474-483 (2015).
5. Rockwood TH, Church JM, Fleshman JW, et al. Fecal Incontinence Quality of Life Scale – Quality of life instrument for patients with fecal incontinence. Dis Colon Rectum. 2000;43:9-16.
6. Damon, H. et al. Prevalence of anal incontinence in adults and impact on quality-of-life. Gastroenterol. Clin. Biol. 30, 37–43 (2006).
7. Hull T, Giese C, Wexner SD, et al. Long-term Durability of Sacral Nerve Stimulation Therapy for Chronic Fecal Incontinence.
8. Dis Colon Rectum. 2013; 56(2):234-45.
Complications can occur with the evaluation, including movement of the wire, technical problems with the device, and some temporary pain. Your doctor or nurse will provide you with information regarding how to operate the test device and inform you of other precautions related to the evaluation and activity restrictions. Implanting an InterStim™ system has risks similar to any surgical procedure, including swelling, bruising, bleeding, and infection. Talk with your doctor about ways to minimize these risks.
* Success defined as greater than or equal to 50% reduction of episodes per week. This patient group had data at both baseline and the 5-year visit. Another analysis reported 69% of people achieved success with Medtronic Bowel Control Therapy. For this patient group, missing data at 5 years because of a device-related reason was counted as failure; if it was missing for non-device-related reasons, the most recent data was carried forward.