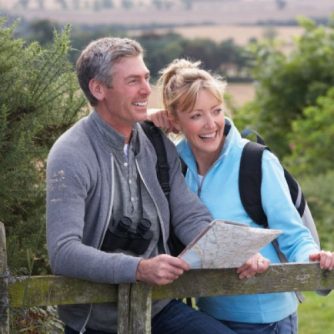 DO YOUR PATIENTS EXPERIENCE REGULAR BLADDER ACCIDENTS?

THERE IS HELP
Overactive Bladder (OAB) is a treatable condition. It's not a normal part of aging. Patients shouldn't have to deal with it on their own.
If you have patients suffering from overactive bladder (OAB) then there are several treatment options available. There are a range of treatments available that could work for your patients. If behavourial techniques and medications haven't worked, then you can refer them to a specialist to find out if sacral neuromodulation may help with their overactive bladder symptoms.
Your patient treatment options
BOTULINUM TOXIN INJECTION
Alison's Story
"My life opened up again." Those are Alison's words as to how InterStimTM II helped her to take back control.
For more information on your patients' different treatment options, please click below:
That's about 46 million adults in Europe1,2 vs 30 million adults in Europe with vision problems3 60 million adults in Europe with diabetes4
IGNORING OAB POSES SERIOUS RISKS
People with undiagnosed OAB reported3:
54% Loss of confidence

49% Loss of self-esteem
45% Loss of intimacy
4.5 out of 10 adults DON'T SEEK HELP for overactive bladder6
the WAY TO REAL CONTROL
There are many ways to manage chronic faecal incontinence. Remember, if conservative treatments don't deliver the results you need, you have more options.

Diagnosis
"What is happening?"
Your patients should be referred to a specialist to see if they have OAB.

LIFESTYLE

CHANGES
"What should patients try first?"
Conservative treatments can help some people, but may not work well for others.
Diet and exercise

Pelvic floor strengthening (Kegels)
Bladder training Medications
ORAL

MEDICATIONS
"Are there medications for OAB?"
Oral medications can help, but may cause side effects.

ADVANCED

THERAPIES
"What if conservative treatments aren't enough?"
Injected Medication
Injections into the bladder are repeated every 3-6 months.
Injected medication potentially requires self-catheterisation which increases the risk of bladder infection.9
Sacral NEUROMODULATION
Therapies that use gentle nerve stimulation thought to normalise bladder-brain communication.7
Medtronic Bladder Control Therapy delivered by the InterStim™ system
Patients can try it with an evaluation
Established long-term relief8
Implanting an InterStim™ system has risks similar to any surgical procedure, including swelling, bruising, bleeding, and infection. Talk with your doctor about ways to minimise these risks.
THE EVALUATION SYSTEM
The external neurostimulator (ENS) generates the stimulation. This device may be worn externally on a belt. The programmer lets patient's adjust and manage their during the evaluation therapy.
THE ROAD TO RESULTS
Make the right choice for every patient with recharge-free and rechargeable options that are both full-body MRI eligible* - a choice only available from the trusted leader in sacral neuromodulation.
EXPANDED ELIGIBILITY
Proprietary SureScan™ technology allows patients with either InterStim™ system to get full-body* 1.5- and 3-T MRI scans, so you can bring life-changing results1,2 to an even wider range of people.
See the device manual for detailed information regarding the instructions for use, implant procedure, indications, contraindications, warnings, precautions, and potential adverse events. See the MRI SureScan® technical manual before performing an MRI. For further information, contact your local Medtronic representative or consult the Medtronic website at www.medtronic.com.
Consult instructions for use at this website. Manuals can be viewed using a current version of any major Internet browser. For best results, use Adobe Acrobat Reader® with the browser.
1. Milsom, I. et al. How widespread are the symptoms of an overactive bladder and how are they managed? A population-based prevalence study. BJU Int. 87, 760–6 (2001).
2. Eurostat EU28 data: https://ec.europa.eu/eurostat/data/database
3. http://www.euro.who.int/en/health-topics/Life-stages/disability-and-rehabilitation/areas-of-work/eye-care2
4. http://www.euro.who.int/en/health-topics/noncommunicable-diseases/diabetes/data-and-statistics
5. Leede Research, "Views on OAB: A Study for the National Association of Continence." December 16, 2015.
6. Irwin DE, Milsom I, Kopp Z, Abrams P; EPIC Study Group (2008) Symptom bother and health care-seeking behavior among individuals with overactive bladder. Eur Urol 53(5):1029-1037
7. Leng, W. W. & Chancellor, M. B. How sacral nerve stimulation neuromodulation works. Urol. Clin. North Am. 32, 11–8 (2005).
8. Siegel, S. et al. Five-Year Follow up Results of a Prospective, Multicenter Study of Patients with Overactive Bladder Treated with Sacral Neuromodulation. J. Urol. 199, 229–236(2018)
9. Denys P et al. Efficacy and safety of low doses of xxxxxxxxxx for the treatment of refractory idiopathic overactive bladder: a multicentre, double-blind, randomised, placebo-controlled dose-ranging study. Eur Urol. 61(3):520-9 (2012)