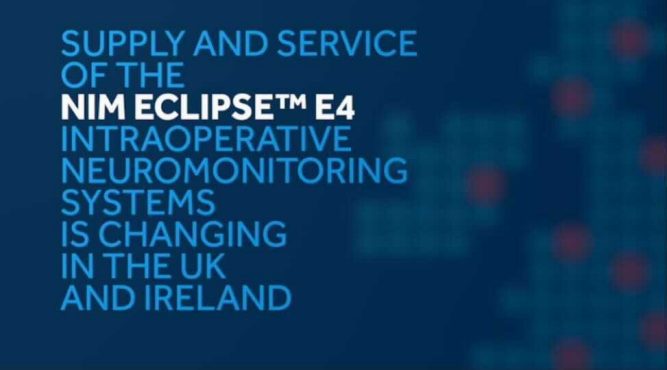 THE FLEXIBILITY OF A
MODULAR PLATFORM
With your input, combined with ≥25 years of neuromonitoring experience, we have now made all test modalities as easy to use and as reliable as possible.
With an easy-to-use interface in combination with a reliable clinical set up, NIM Eclipse® E4 provides you the comprehensive monitoring you need for all types of surgery on two available simplified platforms.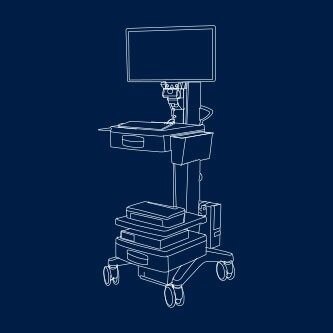 COMPLEXITY SIMPLIFIED
THE advantages OF THE
NIM ECLIPSE® E4
BE
FLEXIBLE
NIM Eclipse® E4 is available in a simplified, but powerful surgeon-directed version and as a neurophysiologist-supported supported version. Both versions are based on a common hardware platform and similar software user interface, allowing you to scale the system at any time depending on your monitoring need.
PROTECT YOUR
INVESTMENT
Both the surgeon-directed and the neurophysiologist-supported version are based on the same platform. This gives you the flexibility to quickly adapt it to your hospital needs. Use the surgeon-directed version today and run the neurophysiologist-supported version tomorrow, without additional investment.
SIMPLE AND QUICK
TO OPERATE
Both versions of NIM Eclipse® E4 are using the same user interface and software modules. Therefore, it is user friendly, easy to learn and allows a smooth and fast transition between the use of SD and NP versions.
Network Connection
Save time and reduce potential errors with direct transfer of patient reports to your Hospital Information System (HIS) immediately after surgery.
Monitor Cart
Create a dedicated workspace with small footprint and storage space for components and disposables.
Transportability
Save on cost by using the system in different operating rooms. The entire unit can be packed into a single small trolley and allows easy transport.
Disposables and Instruments
Reduce the risk of false negative findings with a broad range of high quality instruments and electrodes.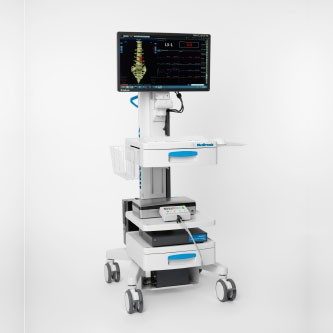 FROM SYSTEM
TO SOLUTION
As a worldwide leader in surgical technologies, we understand your challenges and offer customised total solutions to optimise your workflow.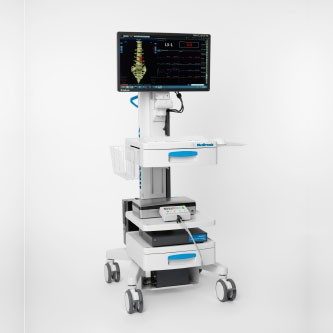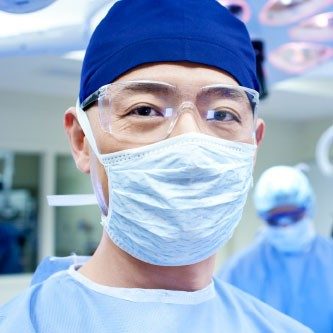 Remote Access
Save time and confirm your decision by getting a second opinion and online remote support instantly during surgery.
Premium Training and Education
Partnering with Medtronic gives you access to a wide range of training and education opportunities.
Integration
Improve workflow and add navigation and imaging information by integration with the Medtronic StealthStation® Navigation and the O-arm® intraoperative X-ray systems.
Service, support and maintenance solutions
For peace of mind, uptime and cost predictability.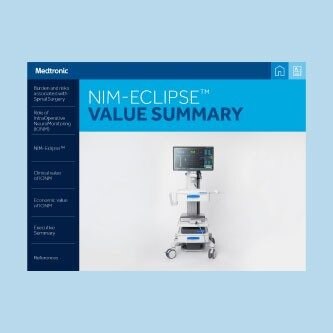 NEUROMONITORING
THE NEED FOR
SAFER SURGERY
Neuromonitoring with NIM Eclipse® E4 can help to detect intraoperative neurological injury during surgery and helps improve and document surgical outcome. It can help to enable optimised surgical strategy.
Download the NIM Eclipse® E4 Value Summary to learn more about the benefits of neuromonitoring in spine surgery.
DOWNLOAD NOW
TO REQUEST MORE INFORMATION OR A VISIT FROM A MEDTRONIC REPRESENTATIVE,

PLEASE FILL IN THE FORM BELOW
*Please note that, due to COVID-19 restrictions, footage has been filmed remotely and this may affect output quality.