This French language 1-day course aims at refining participants' knowledge of temporal bone anatomy and covers teaching on basic and advanced surgical approaches in otology.
It includes a short theoritical session and surgical dissection on a fresh frozen head using power instruments.
Lead by Dr Decat and Dr Gregoire from UCL St Luc.
AUDIENCE
The training addresses the needs of surgeons who are interested in developing further surgical skills in otology procedures.
OBJECTIVE
During this course, participants will:
get a review of the general anatomy of the ear;
practise the following surgical techniques through cadaver dissection:

mastoidectomy;
posterior tympanotomy;
canal wall up procedure,
incus and prosthesis interposition (or stapedotomy with prosthesis);
canal wall down;
endolymphatic sac clipping;
facial nerve decompression;
translabyrinthine approach.

acquire experience using powered instrumentation.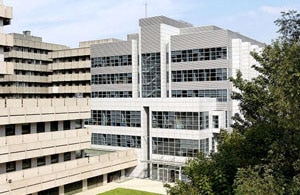 LOCATION
Faculty of UCL St Luc
Laboratory of anatomy – Tour Vésale
Avenue Mounier
1200 Bruxelles
Prerequisites
Not applicable
FORMAT
Welcome coffee at 8.15 hrs
Start at 8.30 hrs
Lunch from 12.00 - 13.00 hrs
Closing at 16.00 hrs
Date
Please contact the Learning Manager for the dates.
PRELIMINARY AGENDA
Mastoidectomy
Posterior tympanotomy
Canal wall up procedure
Incus and prosthesis interposition (or stapedotomy with prosthesis)
Canal wall down
Endolymphatic sac clipping
Facial nerve decompression
Translabyrinthine approach