CLINICAL EVIDENCE — HEMODYNAMICS
TRANSCATHETER AORTIC VALVE IMPLANTATION (TAVI)
Clinical Evidence Demonstrates Industry-Leading Hemodynamics
The Medtronic transcatheter aortic valve with a self-expanding, supra-annular design delivers industry-leading hemodynamics. See the recently released clinical evidence on our newest generation TAVI device as well as longer-term hemodynamic performance out to 5 years on this proven platform: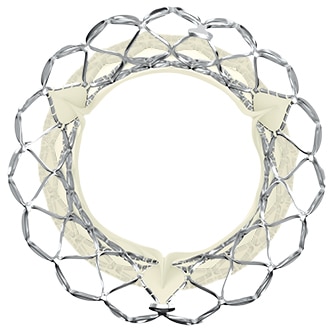 The Evolut PRO Study is a prospective, multicenter, non-randomized single-arm study. Primary safety endpoints were all-cause mortality and disabling stroke at 30 days. Primary efficacy endpoint was percentage of patients with none or trace aortic regurgitation at 30 days.
Study Status/Duration: 1 year outcomes reported/5-year follow-up
Sample Size: N = 60
Device: Evolut PRO TAV

The SURTAVI Clinical Trial is a prospective, multinational, randomized clinical trial evaluating the CoreValve and Evolut R systems versus surgery in patients with symptomatic severe aortic stenosis at intermediate surgical risk.
Study Status/Duration: 1-year full Kaplan-Meier and 2-year Bayesian outcomes reported/10-year follow-up
Sample Size: N = 864 TAVI, 796 SAVR
Devices: CoreValve 84% / Evolut R 16% TAVs
The CoreValve ADVANCE Study is a multicenter, prospective, single-arm observational study to evaluate safety and performance of the CoreValve system in a routine hospital setting.
Study Status/Duration: 5-year outcomes reported/5-year follow-up
Sample Size: N = 1,015
Devices: CoreValve, TAV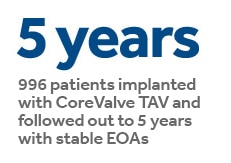 1
Williams, as presented at 2018 ACC
2
Reardon MJ, Van Mieghem NM, Popma JJ, et al. Surgical or Transcatheter Aortic-Valve Replacement in Intermediate-Risk Patients. N Engl J Med. April 6, 2017;376(14):1321-1331.
3
Gerckens U, Tamburino C, Bleiziffer S, et al. Final 5-year clinical and echocardiographic results for treatment of severe aortic stenosis with a self-expanding bioprosthesis from the ADVANCE Study. Eur Heart J. September 21, 2017;38(36):2729-2738.