ABOUT THE THERAPY
TRANSCATHETER AORTIC VALVE IMPLANTATION (TAVI)
A MINIMALLY INVASIVE ALTERNATIVE FOR SEVERE AORTIC STENOSIS
A changing paradigm in the management of patients with severe aortic stenosis, transcatheter aortic valve implantation (TAVI) is a minimally invasive, catheter-based procedure to replace the aortic valve. Prior to TAVI, treatment options were limited to:
Temporarily improving valve function and easing symptoms by prescribing medication and performing a BAV procedure
Replacing the diseased valve in an open-heart surgery (surgical aortic valve implantation)
TAVI does not require open-heart surgery. Instead, with TAVI, the heart is accessed via an artery. There are three access options:
Transfemoral
Subclavian
Direct aortic
Using imaging and a delivery system, the physician threads the compressed bioprosthetic heart valve through the catheter and positions it within the diseased valve.
After positioning the bioprosthetic valve, the physician begins deploying the valve; the middle image below shows a partially expanded valve. When deployment is complete, the bioprosthetic valve is fully expanded within the diseased native valve.
After testing the new valve function, the physician removes the catheter and closes the incision.
WHAT HAPPENS DURING THE TRANSCATHETER AORTIC VALVE IMPLANTATION?
A transcatheter aortic valve implantation (TAVI) procedure is less invasive than open heart surgery. The entire procedure typically takes approximately 1-2 hours. Your heart team will determine whether you should have a mild sedative or general anesthesia.
AN EXCELLENT OPTION WHEN THERE ARE INCREASED RISKS
TAVI may be an excellent option for certain patients with severe symptomatic aortic stenosis who may have increased risks associated with surgical aortic valve implantation (SAVI).1
Without intervention, this patient population's survival rate is approximately 50% at two years.2
The Evolut™ TAVI Platform is the only TAVI platform on the market to demonstrate statistically significant better outcomes in terms of all cause mortality or stroke at 3 years vs. SAVR.3
POTENTIAL BENEFITS
The Evolut TAVI platform's supra-annular valve design delivers large EOAs (effective orifice area) and low single-digit gradients resulting in industry-leading hemodynamics.
POTENTIAL RISKS
Most medical procedures have risks. The Medtronic TAVI procedure's most serious risks include:
Death
Stroke
Serious damage to the arteries
Serious bleeding
Need for permanent pacemaker
LEARN MORE ABOUT AORTIC STENOSIS AND THE EVOLUT™ TAVI
The Medtronic Aortic Stenosis Evolut™ TAVI mobile application provides healthcare professionals an educational augmented reality experience to learn more about the progression and treatment need of aortic valve stenosis.
This augmented reality app is designed to be experienced by pointing your camera at the printed marker image. For the best performance, use in a bright environment. The integrated animation provides you further information about the Evolut™ TAVI procedure and will help you find TAVI clinics in your region.
GET THE AUGMENTED REALITY TAVI APP
Download the Aortic Stenosis Evolut™ TAVI Augmented Reality Education app from the App Store and Google Play.

DOWNLOAD MARKER IMAGES FOR AORTIC STENOSIS EVOLUT™ TAVI AUGMENTED REALITY EDUCATION
DOWNLOAD HERE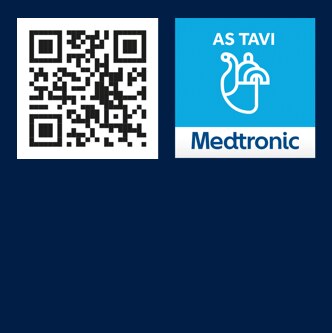 A TIMELY REFERRAL MAY SAVE LIVES
Symptoms can develop insidiously and may often go unrecognized by patients and their physicians. Many patients who state they have no symptoms may be subconsciously limiting their exercise to avoid symptoms.4
After developing symptomatic heart failure, without treatment, the average patient survival is two years.3
Since no effective medical therapy to reduce or reverse aortic stenosis progression is available, the only treatment option is valve replacement.1
References
1
Everett RJ, et al. Timing of intervention in aortic stenosis: a review of current and future strategies. Heart Epub 2018 doi:10.1136/ heartjnl-2017-312304
2
Modified from Blase A. Carabello, Introduction to Aortic Stenosis, Circulation Research. 2013; Volume: 113, Issue: 2, Pages: 179-185, DOI: (10.1161 CIRCRESAHA.113.300156)
3
Lester SJ, Heilbron B, Gin K, Dodek A, Jue J. The natural history and rate of progression of aortic stenosis. Chest. April 1998;113(4):1109-1114.
4
McCarthy CP, Phelan D, Griffin B. When does asymptomatic aortic stenosis warrant surgery? Assessment techniques.Cleve Clin J Med. April 2016;83(4):271-280.
Disclaimer: This page may include information about products that may not be available in your region or country. Please consult the approved indications for use. Content on specific Medtronic products is not intended for users in markets that do not have authorization for use.