CLINICAL EVIDENCE — PROCEDURAL OUTCOMES
TRANSCATHETER AORTIC VALVE IMPLANTATION (TAVI)
OUTSTANDING PROCEDURAL PERFORMANCE
The latest study results demonstrate excellent procedural performance.
The Evolut PRO Study is a prospective, multicenter, non-randomized, single-arm study. Primary safety endpoints were all-cause mortality and disabling stroke at 30 days, and the primary efficacy endpoint was percentage of patients with no or trace aortic regurgitation at 30 days.
Study Status/Duration: 1-year outcomes reported/
5-year follow-up
Sample Size: N = 60
Devices: Evolut PRO TAV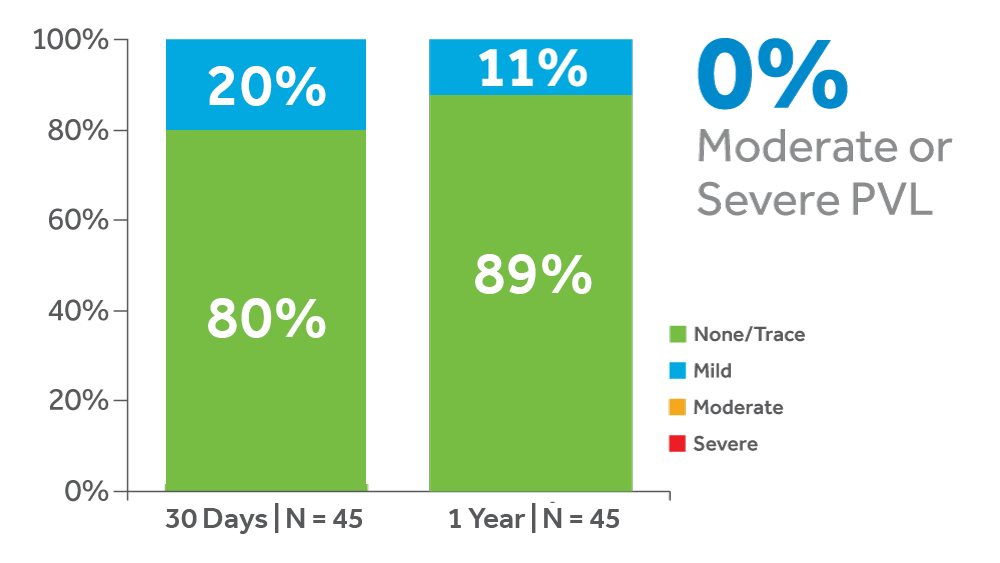 SURTAVI CONTINUED ACCESS STUDY2
Patients underwent attempted TAV implant under the same inclusion and exclusion criteria and trial procedures as the SURTAVI Trial, with no randomization to surgery.
Study Status/Duration: 30-day outcomes reported/5-year follow-up
Sample Size: N = 275
Devices: Evolut R 93%/CoreValve 7%, TAV
1
Williams, as presented in poster at ACC.18

2
Van Mieghem N, et al. Transcatheter Aortic Valve Replacement with a Self-Expanding Prosthesis or Surgical Aortic Valve Replacement in Intermediate-Risk Patients: 1-Year Results from the SURTAVI Clinical Trial. Presented at TCT 2017.